What is a Waikiki Beachboy?

The original Waikiki beachboys were water sports instructors who worked on the beaches fronting the Royal Hawaiian and Moana Hotels from the 1920's to the late 1950's. These beachboys taught the wealthy visitors who traveled to Hawai'i how to surf, catch waves in an outrigger canoe, and enjoy the Hawaiian culture.

Because these tourists usually vacationed in Hawai'i for long periods of time, the beachboys developed close friendships with their patrons. The beachboys were known for their charm and their love of Hawai'i, which they instilled in the tourists they befriended. As a result, the beachboys became a symbol of Aloha, and helped to draw tourists to the islands.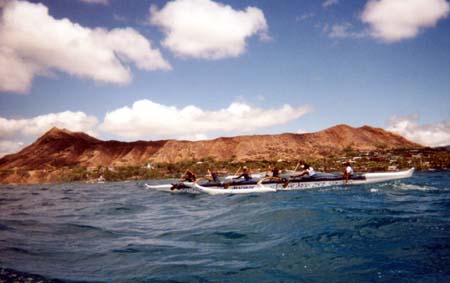 As air travel made access to Hawai'i more affordable, more tourists began visiting the islands, and stayed for shorter periods of time. These changes to the tourism industry affected the relationships the beachboys were able to cultivate with tourists. Today, Waikiki beachboys still work the beaches with concession stands, surfing lessons and canoe surfing rides. Taking over where the original beachboys left off, this new generation of watermen exposes tourists to the Hawaiian culture and spreads Aloha to all who visit Waikiki.
The Formation and History of the Waikiki Beachboys Canoe Club
The Waikiki BeachBoys Canoe Club (WBBCC) was formed in 1973 by a group of Waikiki BeachBoys that all had a similar vision but paddled for different clubs. They decided to come together to form a club that would promote the image of the original Waikiki BeachBoys… men who respected the ocean and mastered the skills of surfing and outrigger canoe paddling, while spreading the spirit of Aloha.

The original founders of WBBCC were: Kimo Makua, Ted Bush, Bob Nagatani and Moku Kamaka. These BeachBoys walked up and down Waikiki beach, collecting $25 from friends and tourists to help finance a canoe for the club. Each person who donated money was deemed an honorary member of the club, and received a certificate from WBBCC.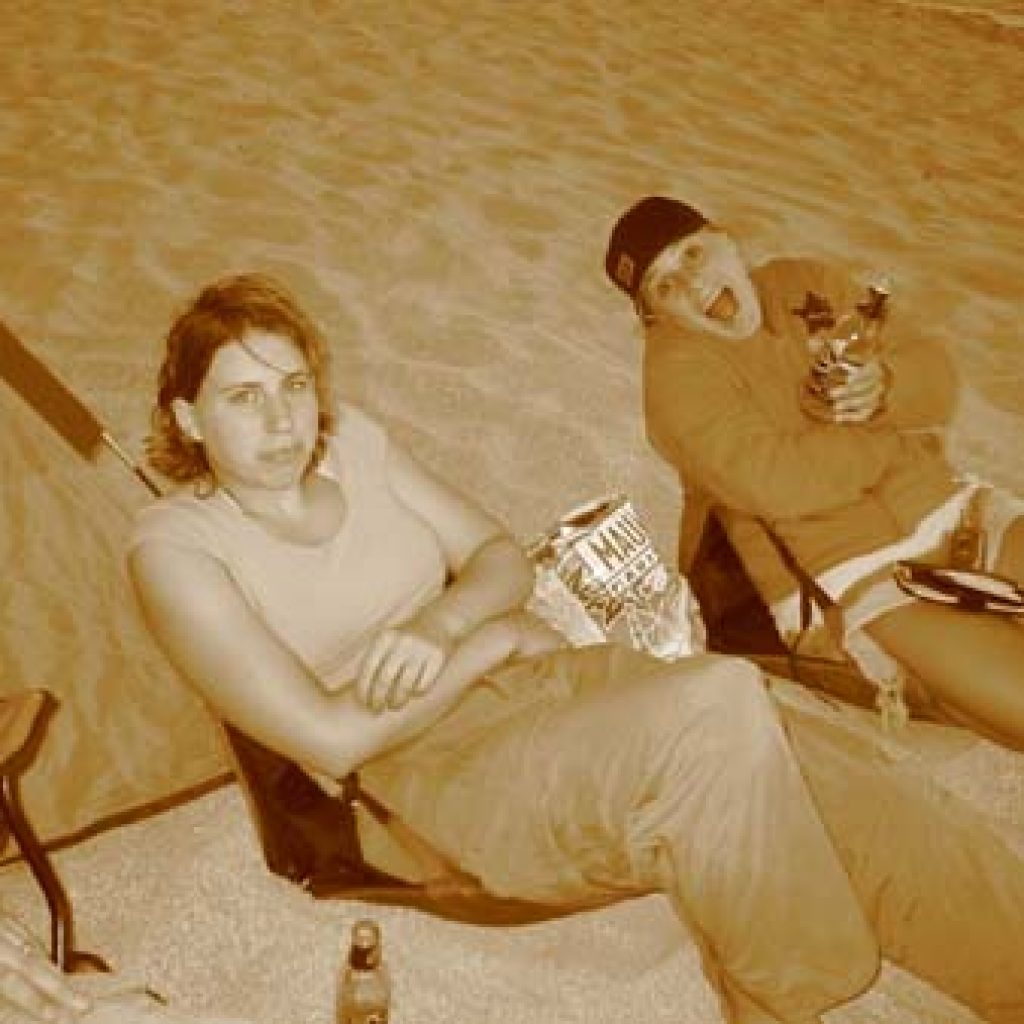 The first canoe purchased with this donated money was blessed in 1974 by the Reverend Abraham Akaka and named the Kai Kane. Soon to follow were the Kai O Wahine and the Kai O Keiki in 1975, the Kai O Kapoe in 1976 and the Malolo II in 1978, all fiberglass, malia molds. The WBBCC's Koa wood canoe was created in 1980 by Ray Bumatay and Alec Apo and named the Kamoho Ali'i. WBBCC also acquired two Hawaiian Racers, the Ana Koa in 1983 and the Kalele O Nalani in 1984. The most recent purchases were the two Bradley canoes, the Kahu Moku Kamaka and the Kai Pi'i, as well as a Mirage canoe named Lehua Kona.

In the mid 1970's, WBBCC began sponsoring the WBBCC pre-season long distance race. This was the first race to incorporate the challenging waters of Diamond Head as it ran all the way from Magic Island to Black Point and back. Today, it is the most popular pre-season race and attracts more than 100 crews from all over the Islands.

In 1979, WBBCC created and hosted the WBBCC Waikiki Invitational Regatta, added as an unofficial race during the Hui Wa'a regatta season. This sprint race in and out of the surf in Waikiki is a popular event for both competitors and spectators. Due to the limited lane space, crews must qualify for an invitation through their performance in prior regattas. WBBCC has hosted this event continuously since 1979, canceling only twice due to high surf conditions.

In 1995, WBBCC again broke new ground hosting the first downwind multi-craft event, Choose Your Weapon. The course from Hawaii Kai to Waikiki includes competitors on paddleboards, surf skis and one-man canoes. In 1999, 6-man canoes were added to the race, increasing its popularity and making it the only pre-season down-wind race for 6-man canoes. Each year the race draws more than more than 300 participants and is followed by a lively lunch and awards party.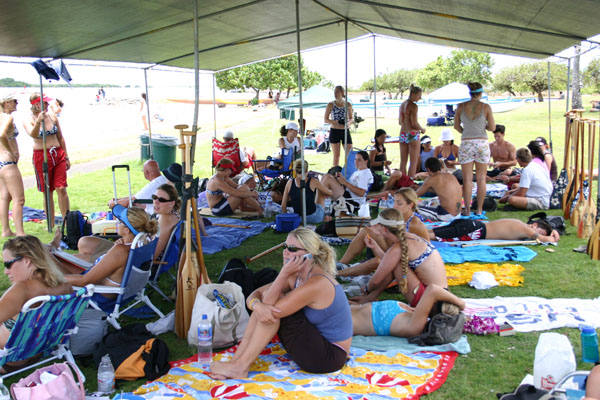 WBBCC continues to promote the image of the original Waikiki BeachBoys and the spirit of Aloha through its paddling events and its members. A number of the members still work the beaches of Waikiki and some are employed as lifeguards and firemen, patrolling the shores of Hawaii, making the waters safe and enjoyable for residents and tourists. Furthermore, its paddlers continue to strive towards excellence in performance and are determined to stop nowhere short of World Champions. The 2006 women won the most prestigious event of the regatta season, the Senior Women's race at the State Championships. They placed an amazing third in Na Wahine O Ke Kai, the World Championships of long distance canoe racing, and are continuing their way towards the top of that most prestigious event.
WBBCC's first long distance crew and coach:
Ted Bush, Ben Garces, Kimo Makua, Aki Akiyama, Mel Mau, Mel Pauole, Ricky Lam, Herman Koa, Steve Elliot, Grant Glissold, David Petersen, George Waikoloa. Coach: Moku Kamaka, with assistance by Ray Bumatay, Bob Nagatani and Pete Adams.
Past Presidents of WBBCC:
Polo Simeona, Alex Apo (longest term), David Kalu, Billy Kamaka, Blackie Kalua, Kuumomi Ho, Derrick Uyema, Dolan Eversole, Rome Esperanza-Stein, Cory Beall, and Allegra Thompson.
Past Officers of WBBCC:
Carol Torgerson-Kuahulu, Ginette Huddy, Ted Bush, Linda Liese, Rae Kamaka, Cindy Summers, Neil Peltier, Jo Clark, Mimi Donnelly, Sandi Beauregard, Tom Allen, Kevin Allen, Ian Forester, Cory Beall, Joanna Stark, Malia Eversole, Trevor Orr, Guy Pere, Kirsten Smith, Meredith Takara, Andrew Roth, David Baynes, Andrea Messer, Raymon Orange, Rachel Orange, Cherie Lee, Mark Bennor, Joey Taylor, Allegra Thompson, Cat Creadick, and Joe Giovannini.
Historical Coaches of WBBCC:
Moku Kamaka, Alex Apo, Dukie Kuahulu, James Koko, Blackie Kalua, Moana Huddy, Kimo Makua, Blue Makua Sr., Ginette Huddy, Bob Nagatani, Keith Keillor, Donna Aukai, Frenchy Luttgau, Ted Bush, Junior Kaai, Derrick Uyema, Neil Peltier, Gail Tomita, Billy Reese, Kalani Coito, Kuumomi Ho, Ed Whaley, Paul Merino, Ronald Lopes, Kala Judd, Ian Forester, Tom Allen, Trevor Orr, Guy Pere, Eric Chun, Cory Beall, Darryl Hara, Tom Damon, Jennifer Bossert , Meredith Takara, Susan Brown, Oin Cenal, Sean Monahan, Franco Arango, and Todd Finlayson.